秋葉原で通り魔事件 7人死亡
From NHK JP..its really sad... on a busy Sunday whereby the streets of Akiba are full of tourist, family...hiaz.. the guy should be put to death!!!
8日昼すぎ、買い物客でにぎわう東京・秋葉原で、男が通行人をトラックではねたあと、次々にサバイバルナイフで刺して男女7人が死亡、10人がけがをしました。静岡県の25歳の男が、現場近くで殺人未遂の疑いで逮捕され「世の中が嫌になり、人を殺すために秋葉原に来た。誰でもよかった」と供述しているということで、警視庁は通り魔事件として動機などを詳しく調べています。

In Tokyo, 7 people died and 10 others were wounded after a man rammed his truck into a crowd and stabbed several passers-by with a knife.
The incident occurred around 12:30 PM on Sunday in the Akihabara shopping district in central Tokyo.
According to witnesses, the man ran away from his vehicle after hitting several pedestrians and started screaming and stabbing people at random.
A 25-year-old man from Shizuoka Prefecture has been taken into custody on suspicion of attempted murder. In his deposition, the man says he was tired of life and came to Akihabara to kill people indiscriminately.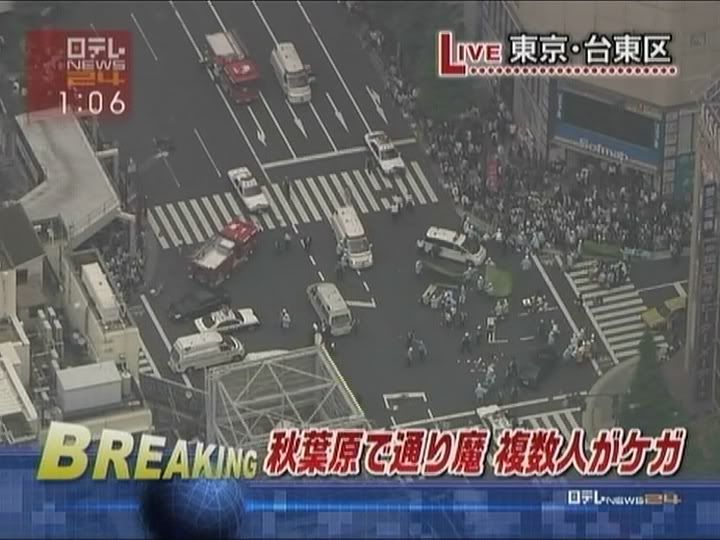 As of 18:33 today, NHK news has officially reported the deaths of seven people, of which, they include: Men aged 19, 20, 29, 33, 47 and 74 . The other was a 21-year-old female.
>SOme Japan Links for more pics..